Our specialist Mac team has vast experience in
quick turnaround high quality assured Mac repairs
MacBook Pro DC-In Board Replacement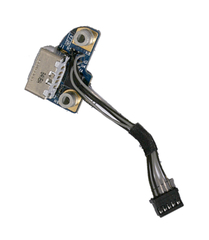 Is your power port physically damaged or does it no longer work? If your power port is defective and is no longer charging, The Mac Response Centre in London can provide you with a same day MacBook Pro DC-in board replacementservice at an affordable price.
Signs of a bad DC-In board includes notebook is not powering on and laptop battery not charging. The MacBook Pro DC-in board (power port) replacement and repair services are carried out by our team of experienced Mac laptop technicians.
We service all model numbers including MA463LL/A, MA464LL/A, MA092LL/A, MA600LL, MA601LL, MA609LL, MA610LL, MA611LL/A, MA895LL, MA896LL, MA897LL/A, MA895LL/A, MA896LL/A, MA897LL/A, MB133LL/A, MB134LL/A, MB166LL/A, MB470LL/A, MB471LL/A, MB604LL/A, MB990LL/A, MB991LL/A, MC118LL/A, MB985LL/A, MB986LL/A, MC226LL/A, MC024LL/A, MC371LL/A, MC372LL/A, MC373LL/A, MC374LL/A, MC375LL/A, MC721LL/A, MC723LL/A, MC725LL/A, MC700LL/A, MC724LL/A, MD318LL/A, MD322LL/A, MD313LL/A, MD314LL/A and MD311LL/A.
We also specialise in:
You can speak to our team direct today on
020 7394 2525
Apple Mac Data Recovery
Our data recovery services offer the latest technology to recover your lost information. We are geared up for any type of data storage system, We have the ability to deliver one of the highest success rates on your lost data. We operate a NO FIX NO FEE Policy!!
We're Open!
9 AM to 6 PM Monday to Saturday
Creative IT (UK) Ltd
Tel: 020 7394 2525
80 Willow Walk
The Willows, Unit 1
London SE1 5SY