Our specialist Mac team has vast experience in
quick turnaround high quality assured Mac repairs
MacBook Pro A1286 Graphics Card Repair London
This is an Apple MacBook Pro (MD318LL/A) (15-inch, Late 2011) Precision aluminum unibody model with 2.2 GHz quad-core Intel Core i7 (2675QM) Processor and has two integrated graphics cards, Intel HD Graphics 3000 with 384MB of DDR3 SDRAM and AMD Radeon HD 6750M graphics processor with 512MB of GDDR5 memory.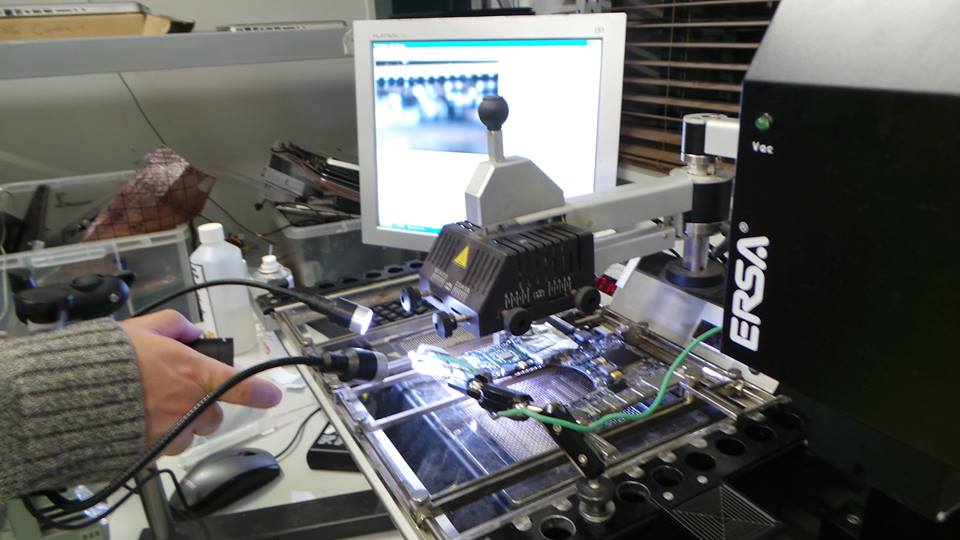 The customer had complained of having vertical lines and blocks on the screen and image distortion. With our past experience we know that most of the MacBook Pro (15-inch, Late 2011) models reportedly experience manufacturing problems leading to notebook overheating, graphical issues, and in due course complete graphics processing unit (GPU) and logic board failure.
Same Day London Apple MacBook Pro A1286 Graphics Card Repairs
Our MacBook Pro repair engineers did a reflow to the AMD Radeon HD 6750M graphics chip on the logic board and we fixed the problems.
Call The Mac Response Centre in London at 020 7394 2525 for same day London MacBook Pro (15-inch, Late 2011) A1286 video card repair, MacBook Pro Unibody A1286 logic board repair, MacBook Pro A1286 liquid damage repair, MacBook Pro Unibody A1286 data recovery and 15" MacBook Pro A1286 overheating repairs.
You can speak to our team direct today on
020 7394 2525
Apple Mac Data Recovery
Our data recovery services offer the latest technology to recover your lost information. We are geared up for any type of data storage system, We have the ability to deliver one of the highest success rates on your lost data. We operate a NO FIX NO FEE Policy!!
We're Open!
9 AM to 6 PM Monday to Saturday
Creative IT (UK) Ltd
Tel: 020 7394 2525
80 Willow Walk
The Willows, Unit 1
London SE1 5SY