Our specialist Mac team has vast experience in
quick turnaround high quality assured Mac repairs
iBook G4 Logic Board Repair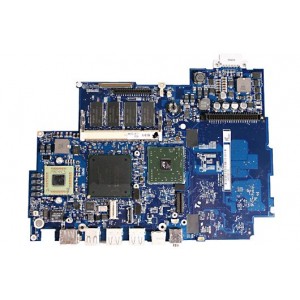 The experts at The Mac Response Centre in London have been performing Apple Mac laptop repair services for quite a few years and we are a nationwide leader in the United Kingdom for providing Apple iBook G4 logic board repair and replacement services for 12-inch and 14-inch models down to the component level.
At The Mac Response Centre, our certified technicians use the latest BGA equipment and advanced techniques to ensure your logic board issue is fixed and we can have your notebook computer up and running within the shortest turnaround time. Most of the common logic board problems can be fixed efficiently without replacing the entire iBook logic board.
Expert Apple iBook G4 Logic Board Repair
We offer repair for all types of board-level issues such as iBook G4 won't turn on or start up, iBook G4 freezes after boot, notebook starts up to blank screen, iBook G4 overheating, no startup chime or no video, kernel panics, scrambled or distorted video, audio issues, unexpected lines on the screen, sleep / wake issues, intermittent video image, USB ports not working properly, video freezes, problems with network connection and other liquid damaged logic board issues. From graphics chip replacement to complete iBook G4 logic board replacement for 12-inch and 14-inch notebook models, we offer a wide array of technical solutions at the most reasonable rates.
If you have any queries regarding our London iBook G4 logic board replacement and repair services, please email us at info@macresponsecentre.co.uk or give us a call on 0207 394 2525.
iBook G4 - M9164LL/A (800 MHz 12-inch) (A1054), M9388LL/A (933 MHz 14-inch) (A1055) and M9165LL/A (1 GHz 14-inch) (A1055)
iBook G4 (Early 2004) - M9426LL/A (1 GHz 12-inch) (A1054), M9418LL/A (1 GHz 14-inch) (A1055) and M9419LL/A (1.2 GHz 14-inch) (A1055)
iBook G4 (Late 2004) - M9623LL/A (1.2 GHz 12-inch) (A1054), M9627LL/A (1.33 GHz 14-inch) (A1055) and M9628LL/A (1.33 GHz 14-inch) (A1055)
iBook G4 (Mid 2005) - M9846LL/A (1.33 GHz 12-inch) (A1133) and M9848LL/A (1.42 GHz 14-inch) (A1134)
You can speak to our team direct today on
020 7394 2525
Apple Mac Data Recovery
Our data recovery services offer the latest technology to recover your lost information. We are geared up for any type of data storage system, We have the ability to deliver one of the highest success rates on your lost data. We operate a NO FIX NO FEE Policy!!
We're Open!
9 AM to 6 PM Monday to Saturday
Creative IT (UK) Ltd
Tel: 020 7394 2525
80 Willow Walk
The Willows, Unit 1
London SE1 5SY